7 Lip-Smacking Sides and Dips to Pair With Fresh Stone Crab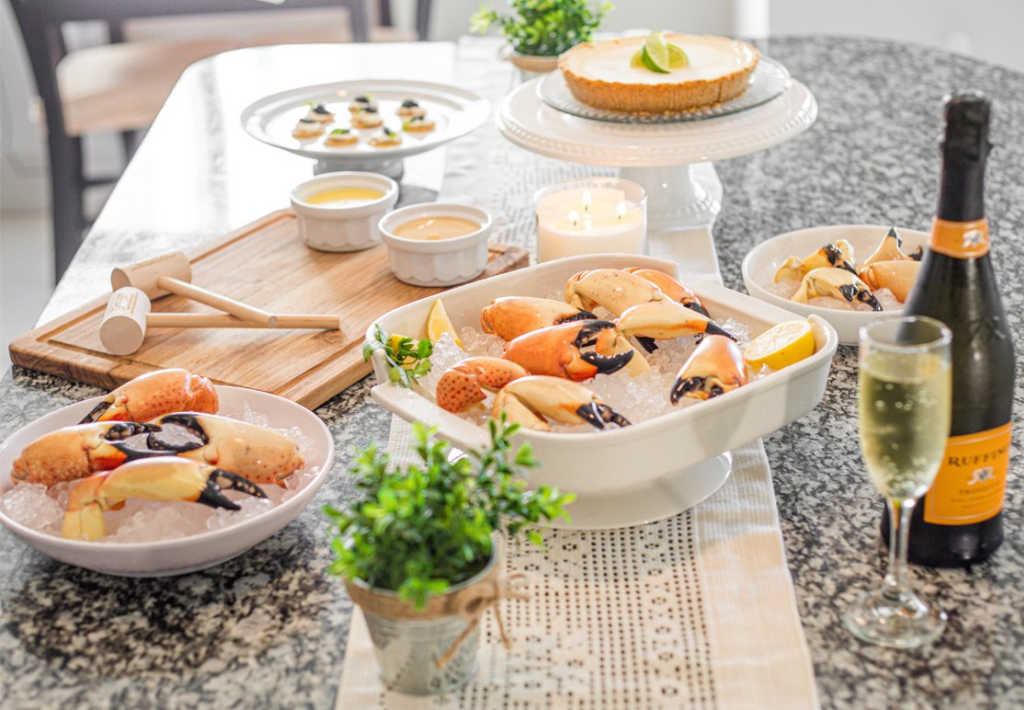 Stone crabs are an excellent renewable food source for the state of Florida. In fact, 98% of all stone crabs come from the Sunshine State! Stone crab season runs every year from October 15th to May 15th. During the stone crab season, locals and tourists alike flock to restaurants to get a taste of the highly sought after claws.
Restaurants can become so crowded during this time that getting a table can be a challenge, so why not whip up some delicious  Stone Crab concoctions at home? We have 7 mouth-watering recipes for your Stone Crabs this season! So, before you get cooking, read this article!
1. Mustard Sauce
You simply cannot talk about eating Stone Crab without talking about stone crab mustard. This is arguably the most common condiment paired with the claws. For this recipe you will need the following items:
1 to 2 Tablespoons of Mustard Powder

1 Cup of Whole-fat Mayonnaise

2 Teaspoons of Worcestershire Sauce

1 Teaspoon of Steak Sauce

Salt and Pepper to Taste
Add all of these ingredients to a mixing bowl and blend until fully combined. This condiment is best served with chilled Stone Crab Claws, however, if you prefer them hot this sauce can still be used.
2. Cilantro Butter
Rich melted Butter clarified and mixed with fresh and vibrant cilantro is the perfect Florida-style dip for your claws this Stone Crab season. For this recipe you will need the following ingredients:
2 Pounds of Unsalted Butter

Half of a Cup of Chopped Fresh Cilantro

Zest of a Lime

1/4 Cup of Lime Juice

Salt and Pepper to Taste
For this recipe, you will first need to clarify your butter. You can do this by slowly simmering the Butter until the Milk solids separate from Butterfat resulting in a rich clarified Butter.
Once you have achieved the clarified Butter you will then slowly mix in the rest of the ingredients until fully blended. This delicious Butter can be paired with hot or chilled claws.
3. Marinated Stone Crab Claws
This recipe is a great side dish for any BBQ or party during Stone Crab season. For this recipe you will need the following ingredients:
2 Pounds Stone Crab Meat

1/2 Cup of Olive Oil

1/2 Cup of Lemon Juice

Zest of a Lemon

1 Teaspoon Chili Flakes

1 Tablespoon Fresh Chopped Garlic

Salt and Pepper to Taste
For this recipe, you will need to remove all of the meat from the claws and place them into a non-reactive bowl. The next step is to whisk all of the remaining ingredients together in a separate bowl until they are well combined.
From there you will pour the mixture over the claws and allow them to marinate in the refrigerator for at least 30 minutes. Pair this side dish with freshly toasted Cuban bread to sop up all of the marinade while you enjoy your claws!
4. Curry Mustard Sauce
Curry Mustard is a popular Caribbean condiment found in many Florida restaurants. This zesty sauce pairs beautifully with fresh Stone Crab. Here are the ingredients you will need:
1 Cup of Whole-fat Mayonnaise

1 Tablespoon Mustard Powder

1/2 Teaspoon Curry Powder

2 Tablespoons White Vinegar

1/2 Teaspoon White Sugar
For this dip, you simply mix all of the ingredients in a bowl until well blended. You can enjoy this Caribbean inspired dip with chilled or hot Stone Crab. 
5. Stone Crab Claws with Palm Hearts and Avocado
This recipe screams Floribbean cooking! This side dish is so flavorful you will not want to share, so let's take a look at the recipe! For this dish you will need the following items:
3 Pounds Stone Crab Meat

1 Hass or 1 Small Florida Avocado Cubed

1 can Sliced Hearts of Palm

1/2 Cup Finely Diced Red Onion

1 Small and Seeded Diced Jalapeno

Zest of a Lime

1/2 Cup Lime Juice

1/4 Cup Finely Chopped Cilantro

1/2 Cup Olive Oil

Salt and Pepper to Taste
To begin start by mixing the Lime juice with the Lime zest and Olive oil. Mix the ingredients well and season with salt and pepper as needed. Next, you will blend the remaining ingredients and mix them well. Finally, you will drizzle the Olive oil and Lime mixture over the Stone Crab mix until the ingredients are thoroughly coated.
Be sure to use chilled crab for this recipe. Let the mix marinate in the refrigerator for at least 20 minutes before eating so the crab can fully absorb the flavors.
6. Mango Honey Butter
This is a delicious and sweet dip with just a touch of heat that pairs perfectly with the sweet meat of the Stone Crab claws. For this dip you will need the following ingredients:
2 Pounds Unsalted Butter

1/2 Cup Mango Puree

1 Tablespoon Local Orange Blossom Honey

1/2 Teaspoon Cayenne Pepper

For this recipe, you will clarify the Butter as we discussed earlier. When the Butter is clarified you will then mix in the remaining ingredients. Keep this dip nice and hot until you are ready to dip your Stone Crab claws into it!
7. Key Lime Burre Blanc
Key Limes are synonymous with Florida cooking. They have been grown in the state for centuries, so pairing them with local crab just makes sense! For this recipe you will need the following ingredients:
1 Cup of Cubed and Chilled Unsalted Butter

4 Tablespoons Key Lime Juice

1 Tablespoon Minced Shallot

1/2 Tablespoon Minced Garlic

1/3 Cup Dry White Wine

1 Tablespoon White Wine Vinegar

1 Tablespoon Freshly Chopped Chives

2 Tablespoons Heavy Cream

Salt and Pepper to taste
This recipe takes a little more patience, however, the result is a deliciously vibrant dip that is perfect for your Stone Crab. Start the recipe by adding the wine, vinegar, shallots, Key Lime juice, and garlic to a pan and bringing the ingredients to a simmer. You will then reduce the heat to Medium-Low and slowly stir in the cream.
When the mixture is reduced by half you will slowly drop in the cubed butter until it is fully emulsified into the sauce. Then strain the mixture using a metal strainer (carefully) and mix in the chives and salt and pepper. This dip should be served warm with either chilled or hot Stone Crab Claws.
Enjoy Your Stone Crab at Home
With these awesome dips and sides, you won't need to leave the comfort of your home to enjoy Stone Crabs this season! If you are worried about where to find Stone Crab this season put your fears aside! We have everything you need to throw the perfect Stone Crab party including tips and tricks for how to cook Stone Crab Claws.
Visit our site today so that we can answer your questions, and get you the claws you have been craving!
Featured in…